Contact
Help¶
If you have questions or need help about the data, go to https://geoforum.nl/. When posting questions on the forum, please use the tag 3D BAG. Although the forum is mainly in Dutch, you are free to use English of course.
Feedback¶
We are very happy to hear whatever you have to say about the 3D BAG. You can give your feedback via this form.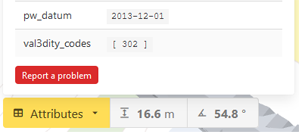 If you want to report issues with specific models, you can do so by clicking on the model in the 3D viewer, and then clicking on the red Report a problem button in the Building Information viewer.
Viewer¶
At the GitHub repository of the viewer, bugs specifically in the viewer can be reported.
Special thanks to NASA AMMOS for 3DTilesRendererJS, which is used for visualising the buildings, and to Geodan for pg2b3dm, used to export our data to 3D Tiles.
Mail¶
Finally, you an also contact us directly at info@3dbag.nl.